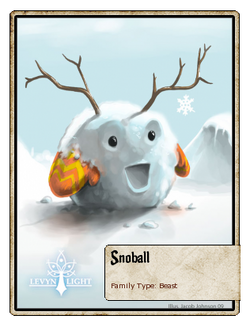 Because they are all handcrafted by village folks at the festival of giving, each Enchanted Snowball is a little bit different than the one before it. Friendly, happy and optimistic, they regard the natural wonders of the holiday season with a childlike sense of delight. Be sure to keep this one outside, though. Enchanted Snowballs are so good-natured that they won't complain, even if they start to melt.
First Appearance: Jolly Holidays
Attack Power: Variable
Defense Power: Variable
Critical Chance: 10%
70% chance of Face Blaster (+2 Attack)
Snoball happily rockets into your face!
40% chance of Trip Hazard (+3 Attack)
In a fit of affection, Snoball rolls around your feet, tripping you!
Loot:

Enchanted Snow
White Gift Box
Energy Preference:
None
Notes: Larger Version
Badges:
Seekers do not earn badges for this character (
more details
).
Ad blocker interference detected!
Wikia is a free-to-use site that makes money from advertising. We have a modified experience for viewers using ad blockers

Wikia is not accessible if you've made further modifications. Remove the custom ad blocker rule(s) and the page will load as expected.