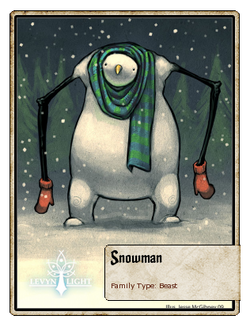 The first snowfall of the year is always a little magical, especially when it brings the Adorable Snowman. Inquisitive but a little shy, he wanders around the edge of town, trading mittens and scarves with the local children. His long arms make him very good at hopscotch, and he's the best snowball fighter around-- if a child knocks his arms off with a barrage of super-icy missiles, someone just needs to pop them back on, and he's good as new.
Location(s): All
First Appearance: Jolly Holidays
Attack Power: Variable
Defense Power: Variable
Critical Chance: 8%
40% chance of Rebuild (+3 Defense)
No matter what you try, it seems that the Snowman is able to re-form itself.
40% chance of Winter Gifts (+1 Attack)
Snowman is quite generous when he gifts you a perfectly formed snowball... to the face.
Loot: Peppermint Potion
Gold:

14 - 40
Energy Preference: None
Badges: Seekers do not earn badges for this character (more details).