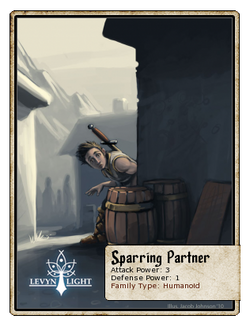 Like you, these young people are in training to become Seekers. Because their stones allow them to keep an eye on opponents, they rely on their speed and their ability to hide in a crowd, hoping to stay out of your way rather than fight hand-to-hand.
Enrick's Sparring Partners have more sparring skills than a novice, but it's not impossible to beat them. Sneak up behind them, or back them into a corner, and you might just knock them for a loop.
First Appearance: Chapter 1
Attack Power: 3
Defense Power: 1
Critical Chance: 0%
Traits: None
Loot: Permission Slip during Discombobulator: Earn Your Keep quest
Gold:

2 - 6
Energy Preference: None
Badges:


1

3
5
10
Ad blocker interference detected!
Wikia is a free-to-use site that makes money from advertising. We have a modified experience for viewers using ad blockers

Wikia is not accessible if you've made further modifications. Remove the custom ad blocker rule(s) and the page will load as expected.