Ad blocker interference detected!
Wikia is a free-to-use site that makes money from advertising. We have a modified experience for viewers using ad blockers

Wikia is not accessible if you've made further modifications. Remove the custom ad blocker rule(s) and the page will load as expected.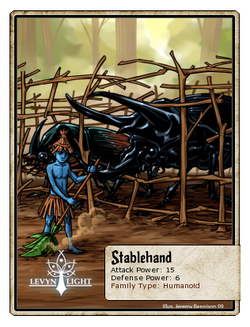 Small even for a Grevel Nub, this little fellow spends his days mixing grub food and mucking out beetle stalls. He dreams of one day entering the Arbor guard, but at the moment he lacks the relative size and strength to pass the entrance exam. He's still young, but for now he remains frustrated with his daily existence. Lady nubs tend to avoid anyone who smells too much like a beetle.
First Appearance: Chapter 3
Attack Power: 15
Defense Power: 6
Critical Chance: 2%
50% chance of Foul Odor (+2 Defense)
Stablehand smells like he's been cleaning beetle stables all day.
Loot:
Superior Energy

Whitestone Shard

Emeralite Shard
Gold:

25 - 35
Energy Preference: None
Badges:


1

10

100
250