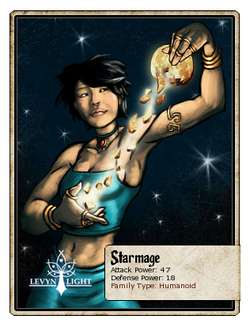 Astute observers of the realm of sleep and dreams, these sorceresses walk a fine line between reality and imagination. Although they seem distant and distracted much of the time, they are just absorbed in their studies, such as the movement of the stars and the proximity of the dream realm to reality. Zeruul detests Starmages, because they are too detached from this world to care much for his rules.
First Appearance: Chapter 6
Attack Power: 47
Defense Power: 18
Critical Chance: 3%
60% chance of Sleep Lock (+3 Attack)
Starmage sends you spiraling into a deep sleep.
13% chance of Star Alignment (+5 Attack)
The stars align in just the right way, allowing Starmage to channel a stream of energy toward you!
Loot: Catalyst Crystal, Heirloom (During The Old Timers), Stone of Summoning
Gold:

90 - 110
Energy Preference: None
Badges:


1

10
100
250
Ad blocker interference detected!
Wikia is a free-to-use site that makes money from advertising. We have a modified experience for viewers using ad blockers

Wikia is not accessible if you've made further modifications. Remove the custom ad blocker rule(s) and the page will load as expected.