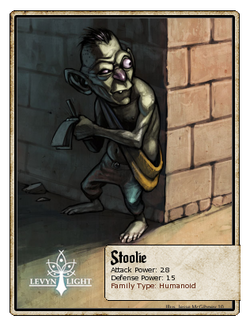 Tired of being deprived and mistreated, this prisoner has turned informant on the other prisoners in return for some extra scraps of food and responsibility. The other prisoners hate him, and with good reason: whenever he runs out of real stories to feed the guards, he begins making them up, causing innocent people to be interrogated and punished.
Location(s): Kestrall's Oubliette
First Appearance: Chapter 4
Attack Power: 28
Defense Power: 15
Critical Chance: 0%
3% Chance of Tattle(+20 Attack)
Stoolie squeals for help from the guards!
Loot:

First Floor Energy

Superior Energy

Wall Energy

Whitestone Shard
Gold:

13 - 22
Energy Preference: None
Badges:


1

10
100
250
Ad blocker interference detected!
Wikia is a free-to-use site that makes money from advertising. We have a modified experience for viewers using ad blockers

Wikia is not accessible if you've made further modifications. Remove the custom ad blocker rule(s) and the page will load as expected.