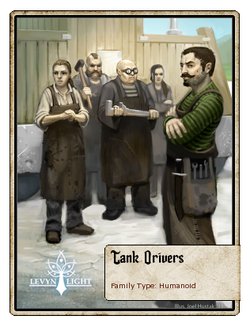 It takes equal measures of intelligence and brawn to get a giant metal tank to move where you want it to. These men and women exhibited the fineset of both qualities and proved to Aznor their worth. Now, anyone who wants to speak to Aznor has to go through them first.
First Appearance: Aznor First Arrival
Attack Power: Variable
Defense Power: Variable
Critical Chance: 1%
13% chance of Brawn (+7 Attack)
Tank Drivers are stronger than they look!
7% chance of Wit (+2 Defense)
Tank Drivers can tell your next move!
Loot:

Wooden Chest

Steel Chest

Gold Chest
Gold:

300-400
Energy Preference:
None
Notes: There's another version of this character: Hope Tank Drivers.
Badges: Seekers do not earn badges for this character (more details).
Ad blocker interference detected!
Wikia is a free-to-use site that makes money from advertising. We have a modified experience for viewers using ad blockers

Wikia is not accessible if you've made further modifications. Remove the custom ad blocker rule(s) and the page will load as expected.