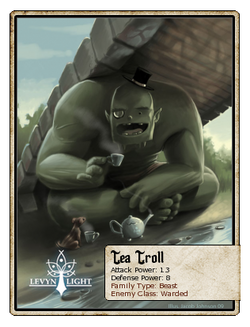 The Tea Troll, not uncommon to the underside of bridges where delicious leaves often wash up is a very strange creature indeed. Often, one would expect such a large and muscular creature to be found crushing the bones of the hapless passerby, but instead you will find he likes to crush tea leaves and gift them to surprised travelers.
Location(s): Green Leaf Bridge
First Appearance: Chapter 2
Attack Power: 13
Defense Power: 8
Family Type: Beast
Enemy Class: Warded
Critical Chance: 5%
34% chance of Tea Time (+2 Defense)
Tea Troll politely invites you to sit down for a good spot of tea.
Energy Preference:
None
Alternative Version(s):

Nog Troll (festive)
Badges:


1

10
100
250
Ad blocker interference detected!
Wikia is a free-to-use site that makes money from advertising. We have a modified experience for viewers using ad blockers

Wikia is not accessible if you've made further modifications. Remove the custom ad blocker rule(s) and the page will load as expected.