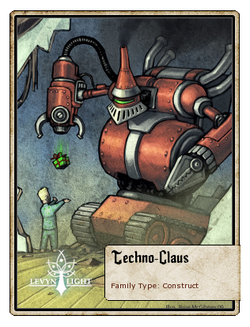 In the chill of a holiday night, as the children lie snug in their beds, Techno-Claus comes roaring down the street on tank treads. With all his engines firing, he homes in on good, smart little children with his awesome robot radar, then smashes through their doors, bringing destruction and Holiday cheer in equal measures. Little boys look forward to his arrival all year long-- it's just their parents, and the insurance companies, that think Techno-Claus needs a few bolts tightened.
First Appearance: Jolly Holidays
Attack Power: Variable
Defense Power: Variable
Critical Chance: 3%
30% chance of Gift Cannon (+5 Attack)
Techno-Clause locks on to you and charges its gift cannon.
77% chance of Festive Debris (+1 Attack)
Techno-Clause manages to smash up just about everything there is to be smashed... unintentionally of course. To make up for this, Techno-Clause litters the area with gifts!
Loot:
Techno-bolts

Red Gift Box
Gold:

12 - 37
Energy Preference:
None
Notes: Larger Version
Badges:
Seekers do not earn badges for this character (
more details
).
Ad blocker interference detected!
Wikia is a free-to-use site that makes money from advertising. We have a modified experience for viewers using ad blockers

Wikia is not accessible if you've made further modifications. Remove the custom ad blocker rule(s) and the page will load as expected.