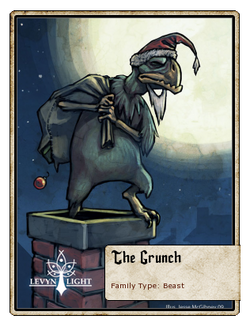 A long time ago, in Fontis Sapienta, the tomes refer to something called Crunchmoose, which caused the people great joy during the winter season. Nobody knows what Crunchmoose was, or is, but they do know that the Grunch stole it. And because he can squeeze down a chimney, he continues to steal, then retreat to an unknown location for the rest of the year. Perhaps Crunchmoose was some kind of ornament. Rumor has it that the Grunch likes shiny things.
Location(s): All
First Appearance: Jolly Holidays
Attack Power: Variable
Defense Power: Variable
Critical Chance: 9%
90% chance of Negative Vibes (+1 Attack)
The Grunch behaves even worse than your expectations of him, kicking your shins and stealing your stuff.
43% chance of Raspberries (+3 Attack)
The Grunch sticks his tongue out at you before making a rude gesture and dishonoring your personal beliefs.
60% chance of Bag Swing (+2 Attack)
The Grunch whacks you in the chest with his bag. Ouch, something pointy is in there!
Loot:

Candy Crane
Gold:

15 - 36
Energy Preference:
None
Notes: Larger Version
Badges: Seekers do not earn badges for this character (more details).
Ad blocker interference detected!
Wikia is a free-to-use site that makes money from advertising. We have a modified experience for viewers using ad blockers

Wikia is not accessible if you've made further modifications. Remove the custom ad blocker rule(s) and the page will load as expected.