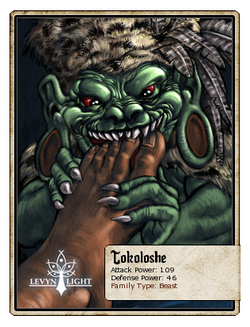 These mischievous little creatures hide under beds and chomp on the toes of their unsuspecting victims while they sleep.
Many skeptics argue that these beings don't even exist at all, and are merely the figments of superstitious imaginations!
First Appearance: Chapter 14
Attack Power: 109
Defense Power: 46
Critical Chance: 3%
21% chance of Delicious Digits (+11 Attack)
The Tokoloshe greedily munches on your toes!
82% chance of Superstition (+2 Defense)
The Tokoloshe knows the trick to defeating you lies with the humble brick.
Archer's Precision (+1000 Defense vs Strong, Enchanted)
Only an archer's precision can defeat the Tokoloshe!
Loot:

Lostman's Desert Volt
Gold:

325 - 350
Energy Preference:

Static Volt
Alternative Version(s):

Tokoloshe Companion (support)
Notes:

Originally released as a part of Aznor's Third Visit event. See Aznor's Clearing for more details on the event version.
Tokoloshe is an evil spirit in the mythology of some African tribes, known for biting off sleeping people's toes. The only way to keep him away at night is to put a brick beneath the legs of one's bed (notice the Superstition trait). [1]
Badges:


1

10
100
250
Ad blocker interference detected!
Wikia is a free-to-use site that makes money from advertising. We have a modified experience for viewers using ad blockers

Wikia is not accessible if you've made further modifications. Remove the custom ad blocker rule(s) and the page will load as expected.