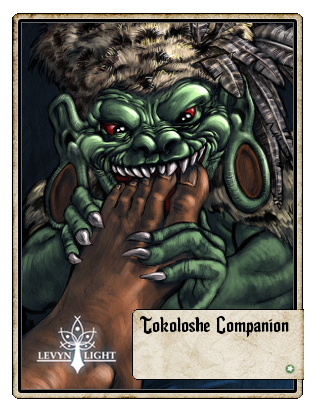 These mischievous little creatures come from "down under" and are loyal to their Seeker. They chomp on unsuspecting foes and drain their energy.
Watch out for those razor teeth when they get hungry!
*NOTE: The Tokoloshe requires three Seeker friends!*
Type: Support
Critical Chance: 8%
90% chance of Razor Sharp (+6 Defense)
Attacking quickly, Tokoloshe drains energy from your enemy!
80% chance of Sapper (+8 Attack)
Tokoloshe pierces your enemy's kinetic barrier!
Required Level: 25
Sell Value: Unsaleable
Obtained By: Purchasing from Caravan Bazaar workshop during Aznor's Third Visit for:
Alternative Version(s):

Tokoloshe (character)
Notes: For more info on origins of the term Tokoloshe, see the original character..
Ad blocker interference detected!
Wikia is a free-to-use site that makes money from advertising. We have a modified experience for viewers using ad blockers

Wikia is not accessible if you've made further modifications. Remove the custom ad blocker rule(s) and the page will load as expected.