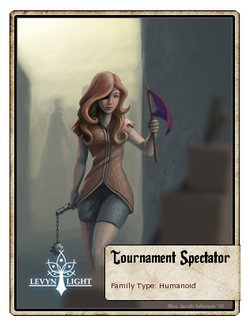 The Tournament Arena has attracted huge crowds for it's grand re-opening. Even the one time Drill Instructor of Esert Village has headed to see the exciting event, marking the rekindling of more peaceful relations between the major factions in the Mythlands.
Location(s): Tournament Grounds
First Appearance: Chapter 2012 Tri-Faction Summer Games
Attack Power: Variable
Defense Power: Variable
Critical Chance: 5%
40% chance of Familiar Face (+5 Attack)
You thing you see a familiar face in the crowds and hold back your attack just a little.
60% chance of Warm Smile (+10 Defense)
The warm smile on her face leaves you defenseless!
Energy Preference:
None
Alternative Version(s):

Drill Instructor (original)
Badges: Seekers do not earn badges for this character (more details).
Ad blocker interference detected!
Wikia is a free-to-use site that makes money from advertising. We have a modified experience for viewers using ad blockers

Wikia is not accessible if you've made further modifications. Remove the custom ad blocker rule(s) and the page will load as expected.