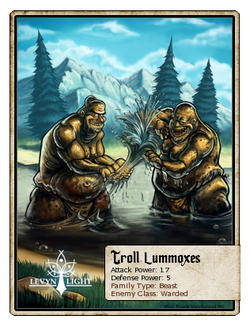 Totally oblivious to the surrounding world, these two gargantuan brutes engage in a never-ending contest to see who's the grossest.
Location(s): Green Leaf Bridge, Troll Pit
First Appearance: Chapter 2
Attack Power: 17
Defense Power: 5
Family Type: Beast
Enemy Class: Warded
Critical Chance: 2%
37% chance of Belly Flop (+3 Attack)
The Troll Lummoxes take turns belly flopping onto the water, slopping mud everywhere!
75% chance of Oblivious (+5 Defense vs Enchanted)
Troll Lummoxes swat your magic away like it's a pesky fly, barely aware that anything tried to hurt them.
Loot:

Troll Toga
Gold:

16 - 18
Energy Preference: None
Badges:


1

10
100
250
Ad blocker interference detected!
Wikia is a free-to-use site that makes money from advertising. We have a modified experience for viewers using ad blockers

Wikia is not accessible if you've made further modifications. Remove the custom ad blocker rule(s) and the page will load as expected.