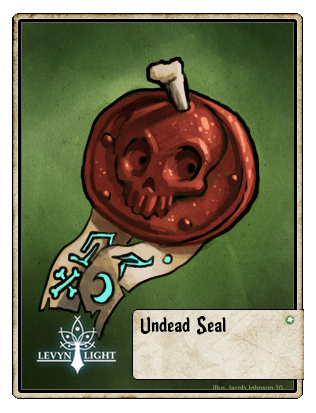 When a zombie or another undead monster is created, a seal like this one is attached to it somewhere to solidify the curse that keeps it alive, and to act as an identifier to other undead. Until now, no one has been able to replicate the seals, but all of the supplies you've brought to the Ivory City store helped the artisans to make one for you. It's not perfect, but it should fool the less observant monsters.
Location(s): Anywhere after final item is obtained
Type: Support
Critical Chance: 2%
80% Chance of Turn Undead (+6 Attack vs Dark)
Using the power of the seal, you blast searing light towards ____, blinding eyes and rending flesh.
25% Chance of Ghoulish Disguise (+3 Defense vs Dark)
The Undead Seal masks your appearance, leading ____ to believe you are one of them, giving you an edge in combat.
10% Chance of Mistaken Identity (-5 Attack vs Humanoid)
____ mistakes you to be an undead minion, using greater and deadlier force to ensure you are vanquished.
Required Level: 1
Sell Value: Unsellable
Obtained By: Completing the Zompocalypse Quest (Halloween 2010 Event)
Ad blocker interference detected!
Wikia is a free-to-use site that makes money from advertising. We have a modified experience for viewers using ad blockers

Wikia is not accessible if you've made further modifications. Remove the custom ad blocker rule(s) and the page will load as expected.