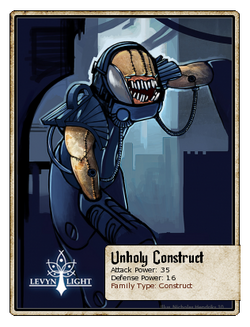 Using a gruesome combination of New Feron ingenuity and Yorrick's necromancy, Zeruul's minions made the Unholy Constructs, hoping that citizens would accept guards manufactured within the city more readily than those from a far-off land. As it turned out, the citizens loathed the presence of the Unholy Constructs far more than other dark beings. Rebel mechanics take great pleasure in knocking them to bits, then using their parts to build bombs.
First Appearance: Chapter 5
Attack Power: 35
Defense Power: 16
Critical Chance: 0%
90% Chance of Security Charm (+10 Defense vs Enchanted)
Unholy Construct is secured from all enchantment by its master!
75% Chance of Nasty Bite (+3 Attack)
Unholy Construct bites you with its ragged, slimy teeth!
Loot: Cyborg Skull during Joining The Bomb Business quest, Gadget, Whitestone Shard
Gold:

24 - 50
Energy Preference: None
Badges:


1

10
100
250
Ad blocker interference detected!
Wikia is a free-to-use site that makes money from advertising. We have a modified experience for viewers using ad blockers

Wikia is not accessible if you've made further modifications. Remove the custom ad blocker rule(s) and the page will load as expected.