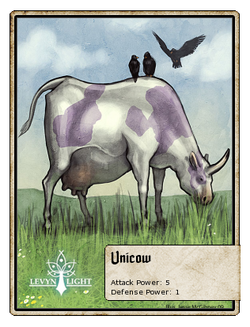 Not nearly as magical or beautiful as the legendary Unicorn, the common and dim witted "one-horned-cow" variety is perfectly content to spend its life eating. Their tasty purple milk makes them a popular farm animal.
First Appearance: Chapter 1
Attack Power: 5
Defense Power: 1
Critical Chance: 1%
75% chance of Moo (+1 Attack)
Unicow moos dully. "Mooooooooooo."
50% chance of Thick Skull (+1 Defense vs Strong)
Unicow's thick skull is immune to your blows!
Loot:

Cowbell

Basic Energy
Gold:

3 - 7
Energy Preference:
None
Alternative Version(s):

Corrupted Unicow (repaint)
Badges:


1

10
100
250
History and Trivia
Edit
During the 08 July 2010 MouseHunt major update to version 3.0 (Longtail), the HitGrab Inc. game MouseHunt was down from 8:00 to 22:00 EST (13:00 to 03:00 GMT) during which time many devoted MouseHunt players made the switch to LevynLight to survive the MouseHunt withdrawal.
Because so many people were starting LevynLight at around the same time, many players were completing the Farm Chores quest in which one must "Defeat 10 Unicows"
The developers, or Devs, allowed MH players to watch the changeover via video and side chat. A topic of conversation was creating a mouse called Unicow Mouse. Mike Hiscott, one of the HitGrab artists drew it for Michele Spencer of HitGrab Inc.
Ad blocker interference detected!
Wikia is a free-to-use site that makes money from advertising. We have a modified experience for viewers using ad blockers

Wikia is not accessible if you've made further modifications. Remove the custom ad blocker rule(s) and the page will load as expected.