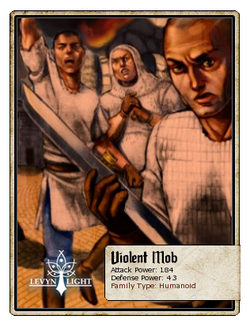 Lack of food, poor living conditions, and no policing force have caused Violent Mobs to proliferate. They get by with petty theft and harassment jobs given to them by Cut Throats.
First Appearance: Chapter 15
Attack Power: 184
Defense Power: 43
Critical Chance: 2%
82% chance of Overwhelm (+55 Attack)
There is power in numbers and that is one thing this mob has plenty of.
As soon as you subdue one of the mob another takes its place! You'll need a broader range weapon.
Loot: None
Energy Preference:

Static Volt
Alternative Version(s):

Raw Recruits (original)
Badges:


1

10

100
250