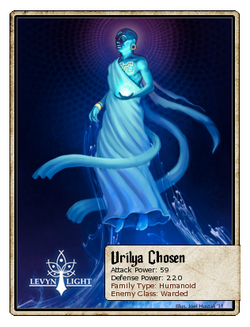 Worshipped deity of the Vrilya, the Chosen is the most ancient being in Vril. Inventor of the constructs, forefather of the humanoids, and planter of the Levyn Tree, the Vrilya Chosen has long taught his people the importance of balance and that the strongest sword isn't necessarily best. Some great things are only attained with a careful and gentle touch.
First Appearance: Chapter 9
Attack Power: 59
Defense Power: 220
Family Type: Humanoid
Enemy Class: Warded
Critical Chance: 7%
36% chance of Energy Crux (+76 Defense)
The Vrilya Chosen draws on energy from the entire city of Vril.
Crippling Cold (-100 Defense vs Ice)
The Vrilya Chosen's defenses are crushed under a weapon of Vril.
Ancient (+100 Attack vs Precise, Enchanted)
The Vrilya Chosen is the most ancient being in all the Mythlands.
Energy Preference: Chosen Energy
Badges:


1

10
100
250
Ad blocker interference detected!
Wikia is a free-to-use site that makes money from advertising. We have a modified experience for viewers using ad blockers

Wikia is not accessible if you've made further modifications. Remove the custom ad blocker rule(s) and the page will load as expected.