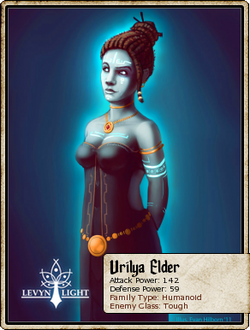 The Vrilya Elder is one of the wisest of their race. They have studied the halls of the Vril for eons and learned ancient truths of the Mythlands since the dawn of history.
First Appearance: Chapter 9
Attack Power: 142
Defense Power: 59
Family Type: Humanoid
Enemy Class: Tough
Critical Chance: 1%
Cold Chills (-100 Defense vs Ice)
The Vrilya Elder's defenses are crushed under a weapon of Vril.
Power Harness (+1000 Attack vs Strong, Precise)
The Vrilya Elder has harnessed the magical powers of the Mythlands.
20% chance of Ancient Truth (+30 Attack)
The Vrilya Elder understands a basic and essential truth about all life.
Loot:

Sibylline Orb of Technology
Gold:

162 - 180
Energy Preference: Elder Energy
Badges:


1

10
100
250
Ad blocker interference detected!
Wikia is a free-to-use site that makes money from advertising. We have a modified experience for viewers using ad blockers

Wikia is not accessible if you've made further modifications. Remove the custom ad blocker rule(s) and the page will load as expected.