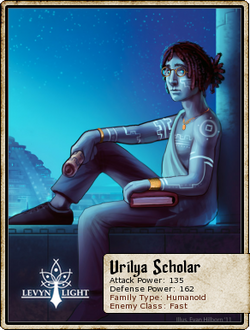 This Scholar has spent centuries in the icy caverns of Vril studying the arcane knowledge of all that is magic. Despite his advanced years when compared to any other person in the Mythlands, he is a youth of Vrilya society striving to gain social standing by studying with hunched shoulders the ancient scrolls kept as record since before time was even recorded and the world was still young.
First Appearance: Chapter 9
Attack Power: 135
Defense Power: 162
Family Type: Humanoid
Enemy Class: Fast
Critical Chance: 1%
Chills (-100 Defense vs Ice)
The Vrilya Scholar's defenses are crushed under a weapon of Vril.
Wit (+100 Attack vs Strong, Enchanted)
The Vrilya Scholar outsmarts your maneuvers.
25% chance of Uncertainty (-15 Attack)
The Vrilya Scholar is unsure of the best offensive move.
Loot:
Sibylline Orb of Magic
Gold:

157 - 177
Energy Preference: Scholar Energy
Badges:


1

10
100
250
Ad blocker interference detected!
Wikia is a free-to-use site that makes money from advertising. We have a modified experience for viewers using ad blockers

Wikia is not accessible if you've made further modifications. Remove the custom ad blocker rule(s) and the page will load as expected.