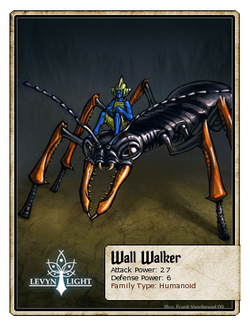 Wall Walkers patrol the outer perimeter of Grevel Nub Arbor, which is sectioned off from the rest of the world by a wall of interlaced trees. A Wall Walker's ant allows them to inspect every last corner of the barrier for damage by taking their rider directly up the side of the wall, and even upside-down. Once a problem is spotted, the ants make gathering repair materials a cinch-- after all, they can carry ten times their body weight.
First Appearance: Chapter 3
Attack Power: 27
Defense Power: 6
Critical Chance: 2%
15% chance of Fire Venom (+2 Attack)
The Wall Walker bites you with an intensely strong bite, weakening you.
10% chance of Ambush (+4 Attack)
Climbing up into an unexpected location Wall Walker gets the jump on you catching them off guard.
Loot:

Superior Energy

Ant

Emeralite Shard

Whitestone Shard
Gold:

26 - 35
Energy Preference: None
Badges:


1

10
100
250
Ad blocker interference detected!
Wikia is a free-to-use site that makes money from advertising. We have a modified experience for viewers using ad blockers

Wikia is not accessible if you've made further modifications. Remove the custom ad blocker rule(s) and the page will load as expected.