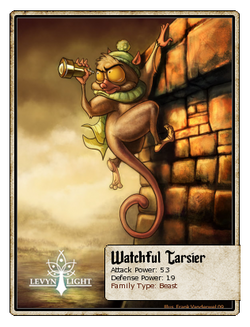 From dawn until the orange glow of dusk, the stone walls of the Northern Outpost crawl with these tiny primates, whose excellent vision allows them to watch the frontier for any suspicious troop movements. The Tarsiers also receive any mail that comes in by bird, although, senders should be warned that the birds sometimes end up as snacks.
First Appearance: Chapter 7
Attack Power: 53
Defense Power: 19
Critical Chance: 4%
62% chance of Spyglass (+9 Defense)
Watchful Tarsier climbs high above the encounter to report enemy movements.
Loot:
Gadget

Widget
Gold:

92 - 99
Energy Preference:
None
Alternative Version(s):
Santa Watch (festive)
Badges:


1

10
100
250
Ad blocker interference detected!
Wikia is a free-to-use site that makes money from advertising. We have a modified experience for viewers using ad blockers

Wikia is not accessible if you've made further modifications. Remove the custom ad blocker rule(s) and the page will load as expected.