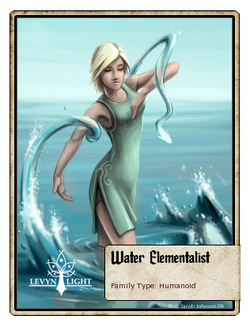 Moving with the grace of a gentle wave, the Water Elementalist spends most of her day doing exercises which mimic the flow of oceans and rivers. Because she is so in tune with the water, she can make water flow out of anything --rock, sand, a clear sky-- and surround her opponents with a vortex of raging sea.
First Appearance: Chapter 1
Attack Power: Variable
Defense Power: Variable
Critical Chance: 0%
Traits: None
Loot:

Baton of Water
Gold:

5 - 10
Energy Preference:
None
Notes: This character was no longer available to fight since the release of Chapter 3. It was reintroduced with the Christmas in July Event as a permanent addition.
Badges: Seekers do not earn badges for this character (more details).
Ad blocker interference detected!
Wikia is a free-to-use site that makes money from advertising. We have a modified experience for viewers using ad blockers

Wikia is not accessible if you've made further modifications. Remove the custom ad blocker rule(s) and the page will load as expected.