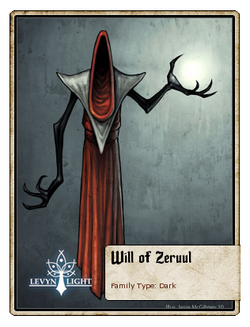 Although the other three Children of Zeruul are as silent as midwinter snow, the Will of Zeruul is allowed a limited form of speech. A Will may speak, and a Will may judge criminal matters, but do not picture a benevolent judge sent by the ruler of the land to solve petty disputes when you think of the Will of Zeruul- oh no. A Will of Zeruul only ever gets involved in a dispute if the answer is death, and it almost always decides to play executioner.
Location(s): Various (more details)
First Appearance: Chapter 5
Attack Power: Variable
Defense Power: Variable
Critical Chance: 1%
60% Chance of Execution (+3 Attack)
The Will of Zeruul uses dark magic to pull the air from your lungs!
80% Chance of Inquisition (+2 Attack)
The Will of Zeruul blasts your soul with a wave of guilt.
Loot: Various (more details)
Gold:

125 - 150
Energy Preference: None
Badges: Seekers do not earn badges for this character (more details).
Ad blocker interference detected!
Wikia is a free-to-use site that makes money from advertising. We have a modified experience for viewers using ad blockers

Wikia is not accessible if you've made further modifications. Remove the custom ad blocker rule(s) and the page will load as expected.