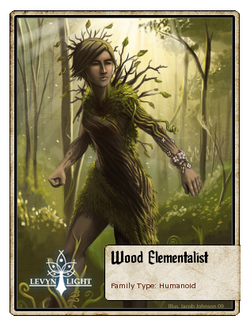 Clothed in the very beauty of the forest, the Wood Elementalist is nature's most powerful bachelorette. Alwasys impeccably adorned with cherry blossoms and a coif of elegant elm branches, she enjoys long walks through the woods and guys who recycle. Don't let her beauty fool you, though. She can place an unwary opponent in a very stick-y situation.
First Appearance: Chapter 1
Attack Power: Variable
Defense Power: Variable
Critical Chance: 0%
Traits: None
Loot:

Baton of Wood
Gold:

5 - 10
Energy Preference:
None
Notes: This character was no longer available to fight since the release of Chapter 3. It was reintroduced with the Christmas in July Event as a permanent addition.
Badges: Seekers do not earn badges for this character (more details).
Ad blocker interference detected!
Wikia is a free-to-use site that makes money from advertising. We have a modified experience for viewers using ad blockers

Wikia is not accessible if you've made further modifications. Remove the custom ad blocker rule(s) and the page will load as expected.