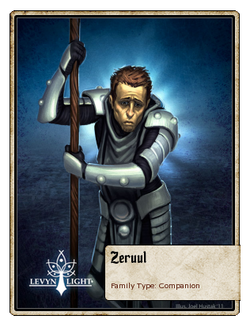 Zeruul has lived for centuries, but not as himself. The greatest victim of the Master Shadow, Zeruul is plagued by the memories of his past. A good man at heart, he was trapped inside, looking out, as the Master Shadow ruled through him. Now, hoping to make amends to the land he tore apart as well as the Seeker who freed him, he is prepared to follow you.
First Appearance: Chapter 11
Attack Power: Variable
Defense Power: Variable
Critical Chance: 3%
Traits: None
Energy Preference:
Illusion Energy
Notes:

There are two versions of Zeruul. This version of Zeruul can only be defeated once, after defeating Zeruul (the other version) 15 times. Both characters can't be encountered later.
This is currently the only companion family type character which can actually be encountered.
Badges:
Seekers do not earn badges for this character (
more details
).
Ad blocker interference detected!
Wikia is a free-to-use site that makes money from advertising. We have a modified experience for viewers using ad blockers

Wikia is not accessible if you've made further modifications. Remove the custom ad blocker rule(s) and the page will load as expected.